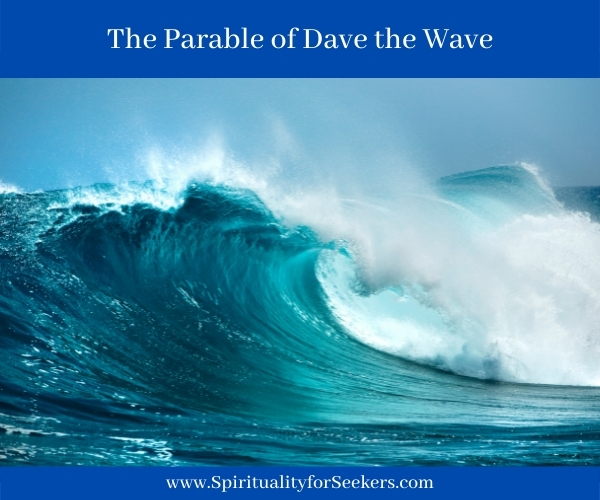 Once upon a time, there was an ocean wave called Dave. He enjoyed his life, but one day he decided to do something a little different, and so when he slid onto the beach in Brighton one particular afternoon, he decided to leave the ocean for a short time and explore things on his own. 
He walked along the beach for a little while and soon encountered a five-limbed creature who was basking in the shallow surf.
'Hi, I'm Starfish,' the creature said. 'Who are you?'
'I'm Dave,' he replied. 'Dave the wave.'
'What's a wave?' the Starfish asked.
'Well, basically, I'm a part of the vast ocean. In fact, I'm made of the exact same stuff, so you could say that I actually am the ocean.'
'No way,' the Starfish chuckled. 'The ocean is vast. And you're not nearly as big.'
'That doesn't matter,' Dave said. 'I'm just as wet and just as salty, and I can do great things. I'm very powerful, you know.'
'You think so?' the Starfish asked. He didn't look convinced.
'I know so,' Dave said. 'For example, I'm strong enough to tear down walls.'
This statement caught the attention of a few other nearby creatures, including a Seagull, who swooped down and landed to hear more.
'So you can move this pebble?' the Seagull asked, pecking at a medium-sized pebble in front of him.
'Of course,' said Dave. 'Watch this.'
Dave took a few deep breaths and then ran up to the pebble and threw himself against it. Unfortunately, the pebble didn't move. Not even an inch. So Dave gathered himself together and had another go. Again, the pebble didn't budge.
'That's not the most convincing demonstration,' the Seagull said.
'Well it's a stupid pebble anyway,' Dave sniffed as he gathered himself together again. 'Besides, I'm better at lifting. If you must know, I'm strong enough to lift an ocean liner. In fact, I've done it many times.'
This caught the interest of a nearby Crab who was also listening. 'So lift something,' he said. 'Here, how about this seashell? If you can lift ocean liners you can surely lift a seashell.'
'No problemo,' Dave said, and he ran over to the shell in question. 'Watch and learn, old Crab.'
He carefully slid himself under the shell and heaved with all his might, but the shell didn't budge. Trying hard to ignore the sound of the Crab chuckling behind him, he heaved again. Still nothing. Even a third attempt didn't achieve anything.
'Maybe it just isn't your day,' the Crab suggested.
'Yes, probably,' Dave said, and he gathered himself together once more. 'But even my awesome lifting isn't as impressive as the noise I can make.'
'Noise?' asked the Starfish.
'Yes, noise. I have the loudest roar you've ever heard when I really get going. It can terrify the bravest of sailors, if you must know.'
'That would be impressive to hear,' the Seagull said. 'Can you roar for us?'
'I'd be happy to,' Dave said. 'But stand back a bit, because I can be quite deafening, and I don't want to hurt any of you with my awesome power.'
The creatures around were surprised by the warning and obediently took a few steps back.
'Better to be safe than sorry,' the Crab said. The Starfish and the Seagull nodded in agreement.
When he was satisfied that the creatures were at a safe distance, Dave summoned all of his power and roared his most impressive roar.
The Seagull fell over, but only with laughter. 'Call that a roar?' he said. 'That was barely a dribble. I've heard raindrops make louder splashing sounds.
Embarrassed, Dave gathered himself together and tried a second time. But again, the expected roar materialized only as a weak splosh.
'Well,' said Dave. 'I blame you guys.'
'Us?' the Starfish gasped. 'Why us?'
'Because none of you expected to hear me roar,' Dave said. 'And you probably didn't expect me to move the pebble or lift the seashell, either.'
'Maybe because you really can't?' the Crab suggested.
'Well I won't stand around arguing about it,' Dave said. 'You're just jealous that you aren't the ocean like I am.'
And with that, he sloped back down the beach and returned to the ocean from which he'd come.
Within a matter of seconds, Dave felt his old strength return, and he was annoyed that the creatures on the beach hadn't been able to witness it. 'Why couldn't I have had this strength on the shore?' he wondered aloud.
'Because it isn't your strength,' the Ocean told him. 'You're made of the same stuff as me, and you're a part of me, but without me giving you my power, you can't do anything.'
Why You Need God
It is common in modern spiritual circles to hear people affirm how we are all aspects of the divine, and how we are all part of Infinite Intelligence with miracle-working potential. It is also common for people to try and demonstrate their spiritual power in many different ways. Unfortunately, few manage to make the demonstrations they would like, and they never quite figure out why.
One of the most famous 'miracle workers' of all time in the Christian tradition was Jesus, who is reported to have turned water into wine, healed the sick, and even raised the dead. On that basis, if anyone can give us an insight into how to demonstrate spiritual power, it is surely him. But actually, Jesus didn't claim to be able to do anything in his own power. Consider the following quotes from the Bible:
'Most certainly, I tell you, the Son can do nothing of himself, but what he sees the Father doing. For whatever things he does, these the Son also does likewise.' (John 5:19)
'Don't you believe that I am in the Father, and the Father in me? The words that I tell you, I speak not from myself; but the Father who lives in me does his works.' (John 14:10)
'Most certainly I tell you, he who believes in me, the works that I do, he will do also;' (John 14:12)
Here Jesus, who refers to himself as the Son and to God as the Father, states that he himself can do nothing, but that it is God who works through him. He also says that if we believe him, we too will be able to perform similar spiritual demonstrations. Not because we personally have the power to work miracles, but because we too can let God work through us just as he did.
The Moral of the Story
When he separated himself from the ocean, Dave the wave wasn't as impressive as he believed himself to be. He identified himself as having the same nature as the ocean, but he couldn't demonstrate its power as an individual wave, no matter how hard he tried.
I think the same applies to us human beings. I believe that we are right in viewing ourselves as spiritual beings who are made in the image of God, but if we try to make demonstrations using our own power, we will usually be disappointed.
The good news (and perhaps the Good News that Jesus spoke of) for spiritual seekers is that we can change our lives if we would only stop relying on our own power and rely on God instead. Just as Dave the wave rediscovered his strength when he returned to the vast power of the ocean, so we too can experience the breakthroughs and demonstrations we need when we get our egos out of the way and allow the power of God to work in and through us.