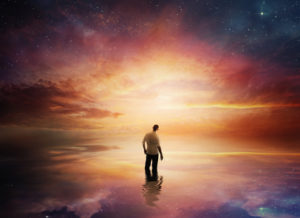 Dreams have always been important to those on the path of the Seeker, and they can be a very good source of inner guidance for individuals who develop the skills required to remember and pay attention to them. In my next post I will share a few key ideas about how you can do just that, but today I would like to share a few dream events that I have experienced personally.
A Dream of Death
For a long time, I thought of dreams as little more than the by-product of my brain processing information that it just happened to have gathered during the day. Like most people, I had my fair share of both good and bad dreams, some vivid and some not so vivid, but nothing that challenged my ideas.
Then one night, in the early nineties, I dreamed that I was standing in front of a grave. I looked at the gravestone, and I noticed that it had my name chiselled into the granite, and that the year of my death was 2000. I don't recall a month.
When I woke up from that dream, it troubled me, because it had suggested that I would be dead at around the age of 30 (my birthday is in June). The dream haunted me, but I would have to wait several years to find out whether or not there was anything prophetic about it. The fact that I am writing these words in 2018 is a bit of a spoiler, but I'll return to this dream later.
A Dream of Birth
In 1998, my wife was pregnant with our second child, who was due in May. Two weeks after the estimated date of arrival, we were still waiting, and so my wife went into hospital to prepare for the birth to be induced the following afternoon.
On the night before the induction was due to take place, I dreamed that I was standing in an elevator with a 12 year old boy. I smiled at him and he smiled at me, as you do in an elevator, and then he said: 'Can I come and live with you?'
'Of course,' I replied, apparently not even thinking that his question was at all weird.
'Are you sure?' he asked. 'Because I have a mental disability, and some people don't like that.'
'Well some people are dicks,' I said, because I quite often speak rather bluntly.
The boy smiled at the response. 'Okay then, I'll come and live with you,' he said. 'Thank you.'
'No problem,' I smiled, and the dream ended there.
The next day, my wife gave birth to our second child, who just happened to be a boy, and who just happened to have a severe mental disability. My wife was obviously shocked at first, but I honestly wasn't surprised, and the dream – which I told her about later – gave us a lot of strength as we adjusted to the situation. Our son is now approaching his twentieth birthday, and he's physically healthy and happy despite the severe challenges that he faces.
Another Dream of Death
The final notable dream that I'd like to share with you took place in the year 2000, which you will recall was the year I'd seen on my grave stone in a previous dream. This time the dream wasn't about me, but about my father, who lived in another city a couple of hundred miles away. We hadn't spoken for about eight or nine years due to an ongoing feud between us.
In the dream, my Dad was sick. In fact, he was dying of cancer, and he told me that he didn't have long left. It was a short, matter-of-fact dream, and I woke from it with a start.
Feeling that this dream was more than 'just a dream', I set aside my stubborn attachment to the feud between us and tracked down his phone number. He was very surprised to hear my voice when I called him the very next morning, but he confirmed that he was being treated for lung cancer, which was in its final stages.
My dad refused to let me see him, asking that I remember him how he was before his illness, and although I tried changing his mind about that, I respected his wishes. However, the dream in which he had told me that he was dying did give me the opportunity to repair the rift between us over several extended phone calls before he died a few months later.
And a Sigh of Relief
In 1998, a boy with a mental disability had come to live with us, just as I had dreamed. In May 2000, my father died of cancer, just as I had dreamed. So, what about me? Would my dream about me dying in the year 2000 also come true?
Clearly, it didn't. But it did make me quite nervous throughout the whole of that year, until I was finally able to breathe a sigh of relieve on New Year's Eve, and then again on my 31st birthday in 2001.
'It will happen afterward, that I will pour out my Spirit on all flesh; and your sons and your daughters will prophesy. Your old men will dream dreams. Your young men will see visions.' – Joel 2:28
My view of dreams today is very different to the view that I had a couple of decades ago. I have learned that sometimes, dreams are far more meaningful than most people would think possible, and that our meaningful dreams can give us guidance, encouragement, or even bring us prophetic glimpses of the future.
I have also learned that dreams are not always meaningful, and that sometimes a dream is just a dream. That being the case, giving every dream a literal interpretation can be a quick way to unnecessary stress and anxiety.
With all of that said, how can the Seeker learn to tell the difference between a regular dream, a symbolic dream and a quite random dream? And how can you deliberately work with your dreams to obtain inner guidance from the divinity within you? Those are the big questions that I will discuss next time, so stay tuned and dream well…
Did you enjoy this post? If so, please use one of the buttons below to share it with those who you think would benefit from it. Then, if you haven't already done so, please sign up with your email address to receive automatic notification of posts as and when they are published.