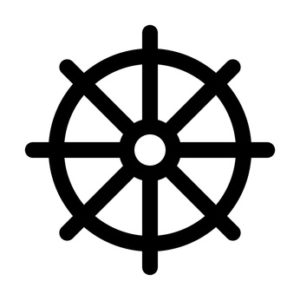 Have you ever felt overwhelmed by the circumstances of your life? Do you ever feel as if you are on some kind of unlucky streak because you seem to be experiencing one bad thing after another? Have you ever wished that the universe would give you a break?
If your answer to any of these questions is yes then I have some good news for you. Actually, I have two pieces of good news, and the first is that: You are not alone. The kind of feelings that I described in the opening paragraph are not only very common, but they could actually be described as being universal.
The very first of the Four Noble Truths, which were defined by the Buddha some 500 years before the birth of Christ, is that suffering is part-and-parcel of the human experience. Birth is suffering, illness is suffering and death is suffering. Getting what you don't want is suffering, and not getting what you do want is also suffering.
Knowing that you aren't the only person who suffers in life might not sound like very good news, but it should reassure you to recognise that you aren't suffering alone. All of us suffer at some point, and all of us feel overwhelmed at some point, so if you happen to feel that way right now, there is nothing wrong with you. On the contrary, you're perfectly normal.
The second piece of good news that I have for you is that you don't necessarily have to change the circumstances of your life in order to experience freedom from suffering. If you are living with some kind of illness then curing that illness would naturally alleviate your suffering to some extent, but you can also reduce the degree of your suffering even if no cure is forthcoming.
One way in which I would suggest that you can begin to reduce the amount of suffering in your life, is by understanding what I call The Wheel of Life and The Hub of Equanimity.
The Wheel of Life
Imagine that your life can be represented by the Buddhist dharmachakra symbol, which is a simple wheel comprising a central hub, eight spokes, and an outer rim. Although this symbol has its own meaning in Buddhist philosophy, for our purposes I would like you to imagine that each spoke of the wheel represents a different area of your life. For example, one spoke might represent your career, another one might represent your health, and others might represent your finances, relationships, and so on.
Now notice how each spoke protrudes slightly from the outer rim, and imagine what your experience would be if you were to focus on any one of those protrusions and turn the wheel. As the wheel turns (that is, as you live your life) you would notice that the spoke you are focusing on goes through a series of ups and downs. If you imagine that the uppermost spoke represents your finances, for example, then your finances would go down as the wheel turns, until it reaches the lowermost position and then gradually makes it way back to the uppermost.
Such is the nature of life. Your health, your finances, your relationships, your career, your moods – all things have their ups and downs. This being the case, if you were to focus on any one of those spokes, you would soon feel as if you were riding a rollercoaster.
Most people feel like this, but some tend to focus on sections of the wheel instead of individual spokes. Optimists tend to restrict their attention to whatever is happening at the top of the wheel, and notice that their finances are doing well even if their relationships aren't doing so well, and vice versa. Pessimists, on the other hand, tend to focus on whatever is happening at the bottom of the wheel, and notice how bad things are always happening – first financially, then relationally, then in their career, and so on.
All of these ways of viewing the circumstances of life are problematic. As we said a few moments ago, focusing on any individual spoke will make you feel as if you are on a rollercoaster ride, and that you can never experience a state of stability. Optimists and pessimists might avoid that rollercoaster experience, but only by deliberately ignoring half of the wheel at any given time: The optimist must ignore what is happening at the bottom of the wheel in order to remain positive, whilst the pessimist must ignore what is happening at the top of the wheel in order to remain negative. Both optimists and pessimists experience more stability than their rollercoaster-riding counterparts, but only by ignoring half of their reality.
Fortunately, there is a way to experience stability and calm in all situations, and to do so without ignoring any aspect of your reality.
The Hub of Equanimity
The hub of the wheel, at the very centre, is the only part which remains stable as the wheel of life turns and turns. If you can learn to focus on the hub, rather than on the uppermost or lowermost spokes, or on any individual spoke, you will find that you soon learn to develop a greater sense of equanimity. You will notice that some areas of your life are up, and that some areas are down, but you will also understand that this is nothing more than the nature of life, and that those ups and downs needn't cause you suffering if you focus your attention on the hub in the middle.
What does that mean, in practice? It means learning to 'find your centre' by meditating on a daily basis, and practicing non-attachment by not allowing yourself to get emotionally attached to the fluctuating movements of your circumstances. You can, of course, take a sensible amount of interest in your finances, relationships, career and so on, but don't become so fixated on those things that you allow them to take your emotions for a ride.
Remind yourself daily that the fluctuations in your circumstances are nothing more than temporary waves on the surface of a much vaster ocean. If you try to attach yourself to any given wave then you will eventually wipe out. However, if you dive down into the depths of the ocean, all you will experience is a greater sense of calm and silence, no matter how rough things may sometimes get on the surface.
Your daily meditation practice is effectively a way for you to practice focusing on the hub of the wheel. By all means watch the spokes of the wheel of life go around and around, but don't chase them unless you want to get dizzy. Instead, simply sit like a mountain and watch the clouds go by.