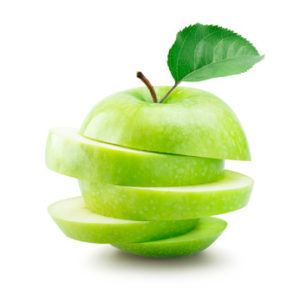 Imagine that you have, right there in front of you, one whole apple. Any apple will do, but for illustration purposes you might want to imagine a crisp, fresh, green one, with a leaf growing from the stem. When that image is firmly established in your mind, imagine that you slice the apple into five separate pieces, and that you arrange those pieces on a plate so that none of them are touching.
Now, how many apples do you have on the plate?
The answer is, I hope, rather obvious. You have just one apple, exactly as you did before you started cutting the fruit. The division of the apple into five separate pieces didn't increase the number of apples that you have, nor did it reduce the number.
Alright then, how many whole apples do you have on the plate?
This question can be a little trickier to answer, because many of you will tend to think of the word whole as meaning undivided, and you have clearly divided the apple by cutting it. In that sense, you might quite rationally respond that you no longer have any whole apples.
In a mathematical sense, however, having all of the parts which collectively comprise the whole means that you still have one whole apple. As any mathematician will be happy to confirm, having five fifths is pretty much the same as having one whole. The overall quantity is therefore exactly the same even though the whole has been divided into five separate pieces.
What's the point of all this apple talk, you may ask? Well it's not a thinly disguised attempt to become the next Jamie Oliver, believe me. I simply wanted to illustrate the point that dividing one whole thing into separate pieces doesn't actually change the mathematical number of things which actually exist. All it really does is change the way the one whole is arranged in physical terms.
The Unity Principle states that there is no real separation between you and the rest of the universe, or between the universe and the Creative Principle itself. On the contrary, everything is actually just one whole thing, and the only reason you experience a feeling of duality, or separation from everything else is because you choose to view yourself as an individual rather than as equally valuable and important pieces of that whole.
If it were possible to separate an ocean into an extraordinary number of individual droplets of water, would the ocean cease to exist? Yes and no. Yes, because ocean is the word we use to describe a vast amount of water, but also no, because that vast amount of water is still there, albeit in a different form. If you were to bring all of those droplets of water together again, the ocean would be just as apparent as it was at the beginning.
What if you were to view the contents of this universe in exactly the same way? What if, rather than viewing yourself as an individual human being which is separate from everything else, you were more mindful of the fact that you are also a part of a much greater whole?
The atoms which make up your physical body have been around since the beginning of time, and they will remain in this universe until the end of time. Why, then, do you view your physical body as being quite separate from the universe at large just because its atoms are currently arranged in this particular way?
Similarly, for those of you who have embraced the concept of yourselves as spiritual beings, why view yourself as a spiritual being which is quite separate from the Creative Principle? Why not instead view yourself as a temporary and only seemingly separate manifestation of the one Creative Principle?
Examine spiritual traditions from around the world and you will often find that their founders spoke about 'being one' with something greater than themselves. Some spoke of being one with God, whilst others spoke of being one with the universe, or simply of the concept of non-duality, but the terminology is not nearly as important as the basic concept which is being described, which is the concept of unity.
If, as a Seeker, you choose to look for God, I would suggest that you don't become too attached to the idea of looking for the whole, because that apple may have already been sliced. Instead, consider looking at yourself, your neighbour, your enemy, your pets and everything else in your experience, and recognising that God may well have been right in front of you all along, cleverly disguising itself as separation.