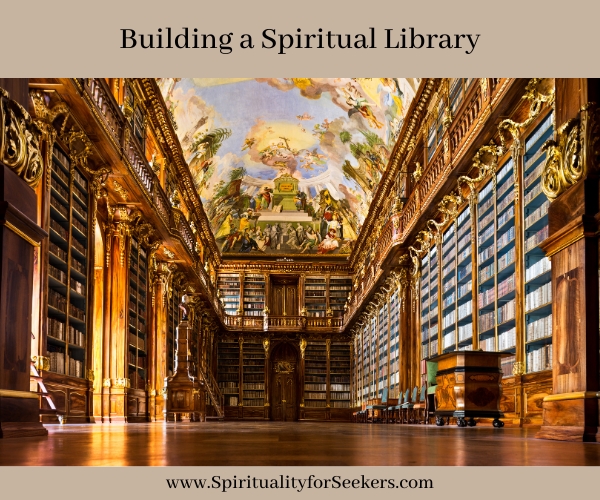 Almost all spiritual traditions value the reading, study and application of spiritual texts, so today I am starting a series of posts about Building a Spiritual Library.
My aim is for each post to focus on a particular tradition and to highlight the books that I view as being of most use to anyone who wants to study that tradition in some depth. I will, in time, be discussing everything from major world religions such as Christianity, Buddhism, and Hinduism, to less formal traditions such as New Thought, Paganism, and Shamanism.
The discussion of each recommended title ends with a link so that you can purchase it from Amazon if you wish to do so. These are affiliate links, and by using them to make a purchase you will be helping to support Spirituality for Seekers website without paying a penny or cent more than you normally would for the books. I have already mentioned this on my About page, but it is fitting to highlight the use of links again here as there will be quite a few in each post.
Building a spiritual library is something that you can do at your own pace. Some people like to buy all of the core books that they intend to study at once and then work through them in the months and years ahead. Others prefer to buy and read one book at a time before moving on to the next one. There is no right or wrong way to build your library, so feel free to take the approach that is most suited to your preferences and circumstances.
It should also be noted that not all spiritual seekers will have the same interests, and so their libraries will reflect those interests. If you are most interested in Christianity and Buddhism, or in Buddhism and Hinduism, then your library might focus on those two traditions and no others. On the other hand, you might be someone who would prefer to get an overview of a whole range of traditions, in which case you will probably want your library to be similarly diverse.
Finally, it's always worth remembering that building a spiritual library isn't an end in itself. The aim isn't simply to collect books that look good on your shelves, but to give you a rich source of material that can provide spiritual nourishment on an ongoing basis. Whether you build your library quickly or slowly, the main point is to make sure that you actually study the texts that you acquire, and that you apply the wisdom that you glean from them.
With all of that said, I hope that you enjoy this series of posts and that you will benefit from building a spiritual library of your own.